2.4: The Measure of Matter
Last updated

14:21, 23 Feb 2017
Skills to Develop
Describe the names and abbreviations of the SI base units and the SI decimal prefixes.
Define the liter and the metric ton in these units.
Explain the meaning and use of unit dimensions; state the dimensions of volume.
State the quantities that are needed to define a temperature scale, and show how these apply to the Celsius, Kelvin, and Fahrenheit temperature scales.
Explain how a Torricellian barometer works.
The natural sciences begin with observation, and this usually involves numerical measurements of quantities such as length, volume, density, and temperature. Most of these quantities have units of some kind associated with them, and these units must be retained when you use them in calculations. All measuring units can be defined in terms of a very small number of fundamental ones that, through "dimensional analysis", provide insight into their derivation and meaning, and must be understood when converting between different unit systems.
1 Units of measure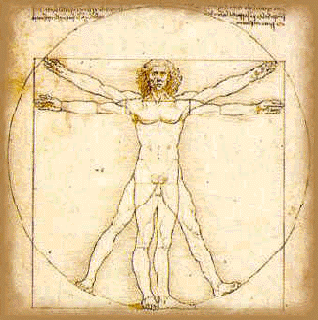 Have you ever estimated a distance by "stepping it off"— that is, by counting the number of steps required to take you a certain distance? Or perhaps you have used the width of your hand, or the distance from your elbow to a fingertip to compare two dimensions. If so, you have engaged in what is probably the first kind of measurement ever undertaken by primitive mankind.
Leonardo da Vinci - Vitruvian Man
The results of a measurement are always expressed on some kind of a scale that is defined in terms of a particular kind of unit. The first scales of distance were likely related to the human body, either directly (the length of a limb) or indirectly (the distance a man could walk in a day).
Systems of units and measuring scales
As civilization developed, a wide variety of measuring scales came into existence, many for the same quantity (such as length), but adapted to particular activities or trades. Eventually, it became apparent that in order for trade and commerce to be possible, these scales had to be defined in terms of standards that would allow measures to be verified, and, when expressed in different units (bushels and pecks, for example), to be correlated or converted.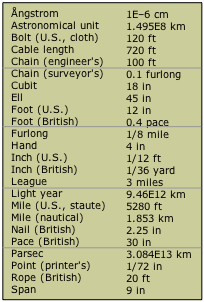 Over the centuries, hundreds of measurement units and scales have developed in the many civilizations that achieved some literate means of recording them. Some, such as those used by the Aztecs, fell out of use and were largely forgotten as these civilizations died out. Other units, such as the various systems of measurement that developed in England, achieved prominence through extension of the Empire and widespread trade; many of these were confined to specific trades or industries. The examples shown here are only some of those that have been used to measure length or distance. The history of measuring units provides a fascinating reflection on the history of industrial development.
The most influential event in the history of measurement was undoubtedly the French Revolution and the Age of Enlightenment that followed. This led directly to the metric system that attempted to do away with the confusing multiplicity of measurement scales by reducing them to a few fundamental ones that could be combined in order to express any kind of quantity. The metric system spread rapidly over much of the world, and eventually even to England and the rest of the U.K. when that country established closer economic ties with Europe in the latter part of the 20th Century. The United States is presently the only major country in which "metrication" has made little progress within its own society, probably because of its relative geographical isolation and its vibrant internal economy.
Science, being a truly international endeavor, adopted metric measurement very early on; engineering and related technologies have been slower to make this change, but are gradually doing so. Even the within the metric system, however, a variety of units were employed to measure the same fundamental quantity; for example, energy could be expressed within the metric system in units of ergs, electron-volts, joules, and two kinds of calories. This led, in the mid-1960s, to the adoption of a more basic set of units, the Systeme Internationale (SI) units that are now recognized as the standard for science and, increasingly, for technology of all kinds.
2 The SI units
Brief history of the SI - NIST Reference on the SI

SI units and conversions (MrB, 22 min)
The base units of SI
In principle, any physical quantity can be expressed in terms of only seven base units. Each base unit is defined by a standard which is described in the NIST Web site.
| | | |
| --- | --- | --- |
| length | meter | m |
| mass | kilogram | kg |
| time | second | s |
| temperature (absolute) | kelvin | K |
| amount of substance | mole | mol |
| electric current | ampere | A |
| luminous intensity | candela | cd |
A few special points about some of these units are worth noting:
The base unit of mass is unique in that a decimal prefix (see below) is built-in to it; that is, it is not the gram, as you might expect.
The base unit of time is the only one that is not metric. Numerous attempts to make it so have never garnered any success; we are still stuck with the 24:60:60 system that we inherited from ancient times. (The ancient Egyptians of around 1500 BC invented the 12-hour day, and the 60:60 part is a remnant of the base-60 system that the Sumerians used for their astronomical calculations around 100 BCE.)
Of special interest to Chemistry is the mole, the base unit for expressing the quantity of matter. Although the number is not explicitly mentioned in the official definition, chemists define the mole as Avogadro's number (approximately 6.021023) of anything.
The SI decimal prefixes
Owing to the wide range of values that quantities can have, it has long been the practice to employ prefixes such as milli and mega to indicate decimal fractions and multiples of metric units. As part of the SI standard, this system has been extended and formalized.
| prefix | abbreviation | multiplier | -- | prefix | abbreviation | multiplier |
| --- | --- | --- | --- | --- | --- | --- |
| peta | P | 1015 | | deci | s | 10–1 |
| tera | T | 1012 | | centi | c | 10–2 |
| giga | G | 109 | | milli | m | 10–3 |
| mega | M | 106 | | micro | μ | 10–6 |
| kilo | k | 103 | | nano | n | 10–9 |
| hecto | h | 102 | | pico | p | 10–12 |
| deca | da | 10 | | femto | f | 10–15 |
3 Units outside the SI
There is a category of units that are "honorary" members of the SI in the sense that it is acceptable to use them along with the base units defined above. These include such mundane units as the hour, minute, and degree (of angle), etc., but the three shown here are of particular interest to chemistry, and you will need to know them.
| | | |
| --- | --- | --- |
| liter (litre) | L | 1 L = 1 dm3 = 10–3 m3 |
| metric ton | t | 1 t = 103 kg |
| united atomic mass unit | u | 1 u = 1.66054×10–27 kg |
SI-derived units and dimensions
Most of the physical quantities we actually deal with in science and also in our daily lives, have units of their own: volume, pressure, energy and electrical resistance are only a few of hundreds of possible examples. It is important to understand, however, that all of these can be expressed in terms of the SI base units; they are consequently known as derived units. In fact, most physical quantities can be expressed in terms of one or more of the following five fundamental units:
| | | | | |
| --- | --- | --- | --- | --- |
| mass M | length L | time T | electric charge Q | temperature Θ (theta) |
Dimensional analysis is an important tool in working with and converting units in calculations.
Some helpful

links:
Consider, for example, the unit of volume, which we denote as V. To measure the volume of a rectangular box, we need to multiply the lengths as measured along the three coordinates:
V = x · y · z
We say, therefore, that volume has the dimensions of length-cubed:
dim.V = L3
Thus the units of volume will be m3 (in the SI) or cm3, ft3 (English), etc. Moreover, any formula that calculates a volume must contain within it the L3dimension; thus the volume of a sphere is 4/3 πr3.
Consider, for example, the unit of volume, which we denote as V. To measure the volume of a rectangular box, we need to multiply the lengths as measured along the three coordinates: V = x · y · z We say, therefore, that volume has the dimensions of length-cubed: dim.V = L
3
Thus the units of volume will be m
3
(in the SI) or cm
3
, ft
3
(English), etc. Moreover, any formula that calculates a volume must contain within it the L
3
dimension; thus sthe volume of a sphere is 4/3 πr
3
.