SC8. Biological Building Blocks: Carbohydrates
Last updated
SC8. Biological Building Blocks: Carbohydrates

The naturally-occurring carbohydrates are chiral.
Glyceraldehyde is the grandmother of carbohydrates.

Wire Frame

Ball & Stick

Spacefilling
Wire Frame

Ball & Stick

Spacefilling
The "last" chiral center in other carbohydrates all have the same configuration as the chiral center in glyceraldehyde.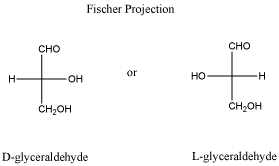 Fischer projections are drawings that are sometimes used to show stereochemistry in a different way.
The groups to left and right of the Fischer projection are coming towards you.
The groups on top and bottom are going away from you.
The carbon chain is drawn vertically with attachments at the sides.
Normally, the chain is oriented so that the "highest priority functional group" on the chain is at or near the top of the chain; that usually means the group with the most bonds to oxygen. In glyceraldehyde, the CH=O group is drawn at the top rather than at the bottom.
Problem SC8.1.
What is the absolute configuration of L-glyceraldehyde? What about D-glyceraldehyde?